VINTAGE PINUP & RETRO PHOTOGRAPHY - CLEVELAND + AKRON
Embrace your awesome self by capturing some sexy vintage pinup shots! Create an outstanding calendar for your man or frame some prints! These make great Birthday, Valentines Day, Christmas, Bridal or Anniversary gifts. With our expertise in vintage makeup, hair, costumes, props and posing coach it's a cinch to get this look. Every shot can be professionally edited to give that vintage pinup look. Packages are customizable based on your needs and start at $395+ (see below) Colored Backdrops are available in our Richfield, Ohio Studio. Contact us today to schedule your session!
PINUP STUDIO/BACKDROP PACKAGE - $395+
PREMIER BOUDOIR'S PINUP SHOOTS - HOME STUDIO (Richfield, Ohio) WITH PLAIN BACKDROP $395+ Includes -
Professional pose coaching

2 outfit changes (additional outfit changes $49/each 10+ more proofs)

20+ Digital proofs (two of your choice will be edited/airbrushed)

2 professionally airbrushed and edited pin up shots, additional edits for $75/each image. Please give the studio 2-3 weeks to turnaround your pinup edits after your selection is made (Rushes are available for $50+)

Prop Access to all Premier Boudoir's Props

2-3 week typical turn around time for pinup proofs (Rushes available for $50+ - in some cases we can do next day turnarounds)

Client provides own lingerie/costumes (we do offer rentals available up to size 8, limited sizes available in 10-18 upon request - Access to rentals is $25 (underwear, thigh highs/shoes not included) )
ADD ONS (OPTIONAL)
+ $59 Makeup & $59 Hair (both for $110) (you provide your own foundation/concealer and fake lashes/glue). Includes foundation application, eye shadow, eye liner, eyebrow liner, full face contour/highlighting, blush, lip color. We use top of the line brands like Naked, Bare Minerals, Too Faced, Tarte and more! NOTE: Client must bring their own foundation/concealer and optional fake lashes/glue.

+$99 Additional Location Add another location to your Pinup Backdrop Set - see ideas below like the retro gas station, train yards and more! This will be included in one of your two looks if you're adding this onto your $395 Pinup Studio Package above.

$49 per additional look/outfit change beyond first 2 & 10+ extra photos This gives you additional photoshoot time as well. Giving you more options, looks and final images to chose from!

$25 per outfit rental...This includes the main outfit, bras, waist-cincher and jewelry (this does NOT include thigh-highs, heels or underwear - we have most sizes but recommend a consultation before counting on rental options to ensure your size/preference is in stock)

$50 Rush Your photo delivery...need your pictures back before 2-3 weeks? No problem, in some cases we can even provide next day delivery. Please note that Rush is for initial photos returned, Editing Rushes are also available at $50.

+$75 Additional Airbrushed Pinup Edits (more details below...)
+$150/each add on - TRADITIONAL BOUDOIR or GLAMOUR SHOOT ADD ON to your pinup shoot!
Can't chose between glamour, pinup or traditional boudoir? You don't have to! Now we offer both in the same location. Do one of your two looks in the traditional boudoir room for a modern sexy look - with 4 floor to ceiling windows, natural light and our white simple bed/backdrop set (add only available with in-Studio traditional boudoir shoots, and when adding this on you only get 1 Airbrushed Pinup Edit instead of 2…
PIN-UP AIRBRUSHING + EDITING PACKAGES (OPTIONAL) - $75/each

While the first 2 edits are included in your package, you might want more of these fabulous airbrushed edits! Our edits include color changing background to your choice (if on white backdrop), airbrushing skin & blemishes, enhancing details like makeup, curves, etc., teeth whitening, cropping and color adjustments, highlighting skin and outfits to give it that painterly pinup look, Photoshop liquifying/airbrushing to any areas of the body per request. (*Note that all of our digital images are proofs right out of the camera that we send and airbrushing and all editing is additional unless otherwise listed in your package. Because of the specific nature of the pinup look - we highly recommend this add-on service to achieve that amazing pinup feel when booking a pinup style photoshoot! WATCH VIDEO BELOW TO SEE HOW WE DO IT)
1-5 edits $75/each

6-10 edits $70/each

11 + edits $65/each
HOW WE REPRODUCE THE PINUP LOOK WITH AIRBRUSHING:
OTHER PINUP + VINTAGE LOCATION-SHOOT IDEAS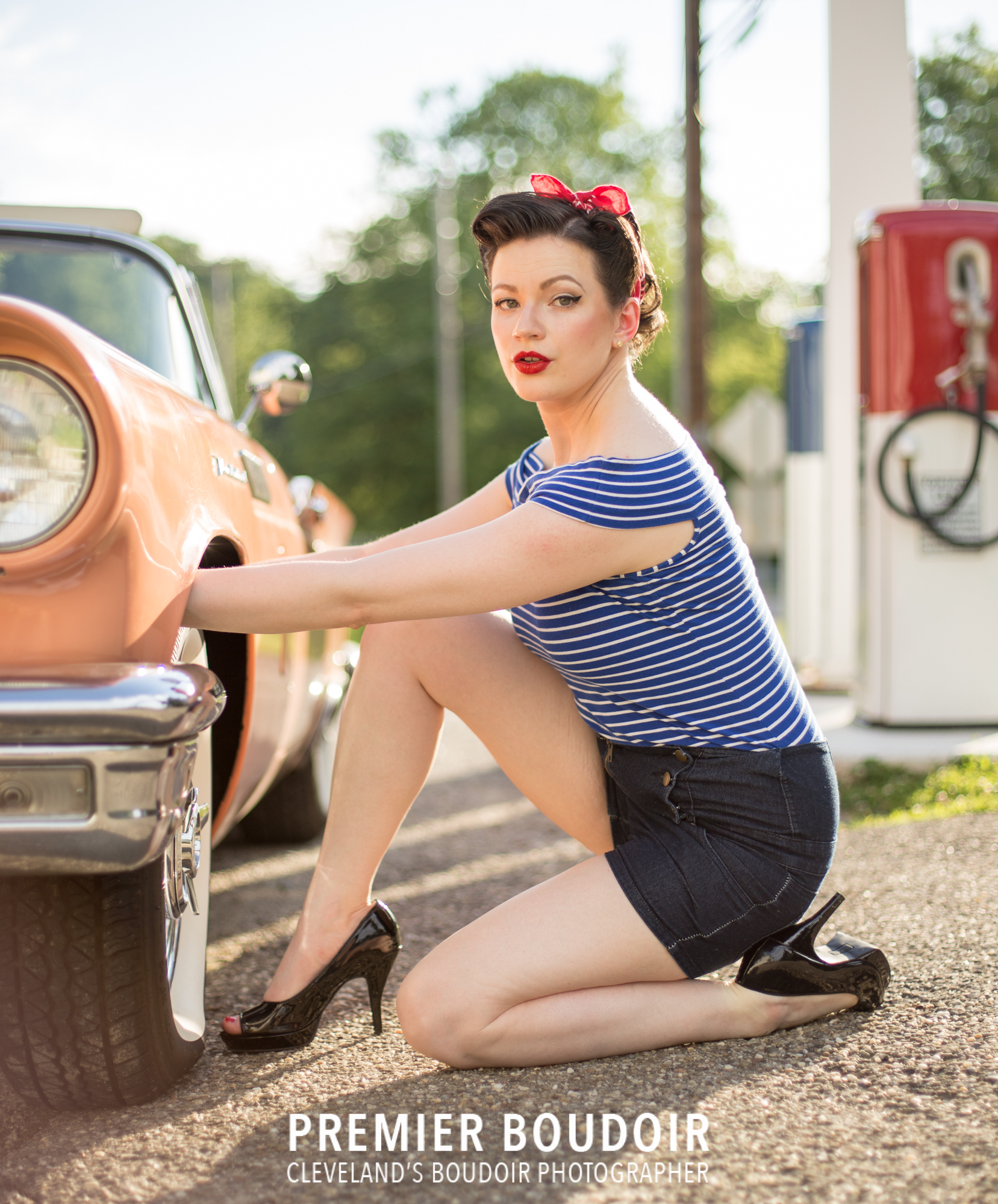 (Above Pinup Photos Shot at Boston Mills, Ohio - Vintage Gas Station - next to Boston Mills Ski Resort. The above images had NO airbrushing or editing beyond basic color adjustments that are included in price!)
*MORE LOCATIONS IDEAS:
*Additional fees may apply to location shoots
How do we reproduce that Pinup Photo look?
Our process starts with you in mind! Pinup photography is a mini work of art that begins with your personality. There is a timeless appeal to this very classic look that transcends fashion fads and gives all woman of all shapes and sizes a sense of empowerment with their sexuality...our goal at Premier Boudoir is to bring out the sexy side of every woman and deliver photos that will leave you feeling amazing about your bad-ass self!
PINUP PROPS
Maybe you love to bake - so we'll use a spatula, wisk and bowl as your prop! Into 50 Shades of Grey? We have riding crops and floggers! If you love books, we've got a librarian look for you! We've got martini glasses, long cigarette holders, vintage cameras, feather dusters, old telephones, vintage crates & boxes, and even props for seasons if you're looking to make an entire pinup calendar. Whatever fits your personality - we'd like to express that in your pinup photo shoot! Got an idea or special prop - we'd love you to bring it along for the pinup photoshoot.
PINUP MAKEUP & HAIR
To get inspired for this retro pinup look we've studied makeup from the era and are sure to add dark black eyeliner wings, rosy red lips and high arched eyebrows. We don't stop at the makeup though, we've got hairstyles in mind along with accessories including a multitude of colored bandanas and black netting hats with feathers! You can add makeup and hair onto any package for $59/each or $110/both.
PINUP POSING IS KEY
So how do we get you into that perfect pose? We've studied pinup photos from the era and with years of modeling experience our expert photographer Liza will get every inch of your body into the perfect pose from your eyebrows down to the way you point your toes! Even the arch of your back to the exact angle of your leg will placed into the perfect position to give your body the most flattering, sexy angle. You don't have to have modeling experience, we'll direct your every move!
POST PROCESSING & AIRBRUSHING PINUP PHOTOS
To achieve the authentic pinup look, your favorite images will be airbrushed and edited with the same techniques used in the 1950s - only with modern digital Photoshopping. You can even customize your favorite vintage colors into the background or let our experts chose for you! Highlights and shadows are airbrushed onto your skin to give that pinup painted look. Teeth are whitened, blemishes removed, curls pushed into place, and we can even enhance your curves if desired! Colors are adjusted digitally and overall Photoshop effects will ensure you've got that retro pinup photo feel.
( Here's exactly how we achieve the airbrushed look in Photoshop )
THE HISTORY OF PINUP ART & PHOTOGRAPHY
The word "Pinup" was first used in 1944 and became increasingly popular through the 1950s. Although pinup style work really began in the 18o0s. Pinup style images were created through lithographs, illustrations and eventually photography. These images were often created of women with feminine curves, sex appeal and usually included a theme or prop. When the advertising world was convinced "sex sells", the pinup style images became a very effective and popular tool in propaganda. It was risque but not overtly inappropriate, pushing the social limits of it's time. Today pinup is viewed by most as a sort of "classy" sexy. Most women feel empowered, with a girl-like innocence expressing their femininity while not being too explicit.
The word "Pin-up" was created because the images were meant to be "pinned up" on the wall. Another term that's used for pin-up is "cheesecake" photos. Calenders were commonly filled with illustrations of pinup girls.
Burlesque performers and actresses used pinup images to create advertising for their shows and promote their work. One of the first actresses known for the pinup style photography was Betty Grable. Many more famous sex-kittens such as Rita Hayworth, Ava Gardner, Bettie Page and Marilyn Monroe to name a few.
CHOOSING A PIN UP PHOTOGRAPHER
You want to chose someone who has a thorough knowledge of the era and a natural, intuitive creative sense. If you don't have modeling experience, a photographer with a background in modeling who can get you into the perfect pose is key to capturing the essence of the pinup style. And personality is a must! You want to feel comfortable with your photographer as you might be wearing less clothing than you normally would. Read reviews and make sure that people are saying great things about the photographer and company so you're sure to have a good experience. Ask if it's going to be a male or female photographer (sometimes women feel more comfortable using females for shoots like this - that's perfectly normal!). Most importantly, look at their portfolio and see if you like their style. Ask for a free phone consultation so you can get a feel for their personality and ask detailed questions about the shoot. After you've done all that - follow your gut and if you feel comfortable with them - you've found your pinup photographer!
Proudly serving Cleveland Vintage Retro &Pinup Boudoir Photography, Akron Vintage Retro &Pinup Boudoir Photography, Richfield Vintage Retro & Pinup Boudoir Photography, Bath Vintage Retro & Pinup Boudoir Photography, Peninsula Vintage Retro & Pinup Boudoir Photography, Brecksville Vintage Retro & Pinup Boudoir Photography, Hudson Vintage Retro & Pinup boudoir Photography, Ohio City Vintage Retro & Pinup boudoir Photography, Tremont Vintage Retro & Pinup boudoir Photography, Ohio Vintage Retro & Pinup boudoir Photography, Fairlawn Vintage Retro & Pinup boudoir Photography, Median Vintage Retro & Pinup boudoir Photography, Strongsville Vintage Retro & Pinup boudoir Photography, North Royalton Vintage Retro & Pinup boudoir Photography, Hinckley Vintage Retro & Pinup boudoir Photography, Beachwood Vintage Retro & Pinup Photography, Gates Mills Vintage Retro & Pinup Photography, Canton Vintage Retro & Pinup Photography, Copley Vintage Retro & Pinup Photography, Avon Vintage Retro & Pinup Photography, Elyria Vintage Retro & Pinup Photography, Mentor Vintage Retro & Pinup Photography