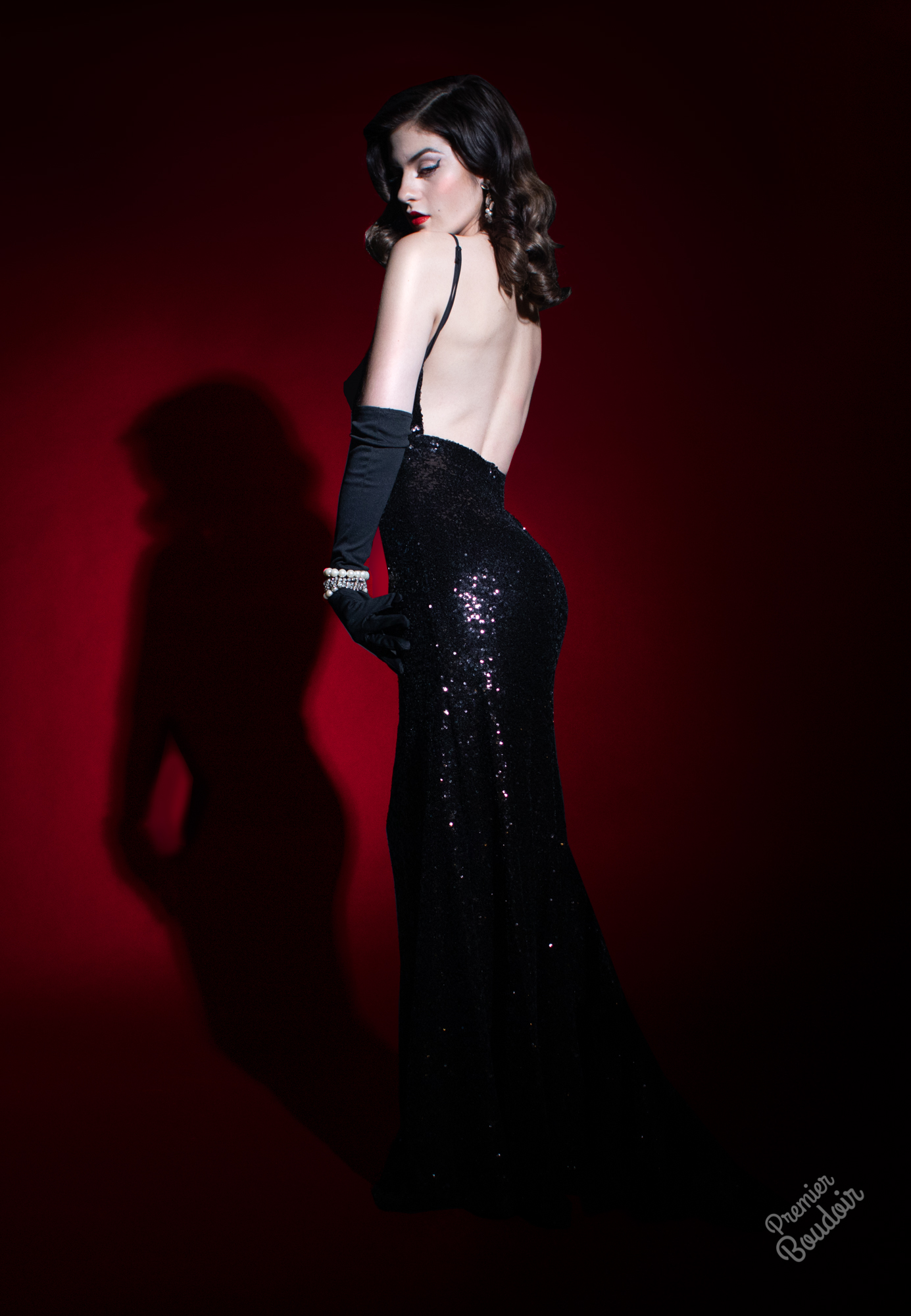 GLAMOUR SHOTS
CLEVELAND & AKRON'S GLAMOUR SHOT & BURLESQUE PHOTOGRAPHER
Want to show off your sexy, glamorous side? We'll help you capture it! What's more fun than dressing to the nine's? Not much! Let us help you achieve this look with our full makeup and hair services and fantastic sense of fashion. Bring your favorite party dress or sexy sparkly top and we'll do the rest. Customizable packages are available to fit your needs starting at $395+. Contact us today to book your session!
HOLLYWOOD GLAMOUR & BURLESQUE BLACK BACKDROP PACKAGE - $395+
PREMIER BOUDOIR'S HOLLYWOOD GLAMOUR & BURLESQUE SHOTS - HOME STUDIO (Richfield, Ohio) WITH PLAIN BACKDROP $395+ Includes -
Professional pose coaching
2 outfit changes (additional outfit changes $49/each 10+ more proofs)

20+ Digital proofs (two of your choice will be edited/airbrushed)

2 professionally airbrushed and edited glamour shots, additional edits for $75/each image. Please give the studio 2-3 weeks to turnaround your pinup edits after your selection is made (Rushes are available for $50+)

Prop Access to all Premier Boudoir's Props

2-3 week typical turn around time for glamour shot proofs (Rushes available for $50+ - in some cases we can do next day turnarounds)

Client provides own lingerie/costumes, jewelry and accessories (we do offer rentals available up to size 8, limited sizes available in 10-18 upon request - Access to rentals is $25 (underwear, thigh highs/shoes not included) )
ADD ONS (OPTIONAL)
+ $59 Makeup & $59 Hair (both for $110) (you provide your own foundation/concealer and fake lashes/glue). Includes foundation application, eye shadow, eye liner, eyebrow liner, full face contour/highlighting, blush, lip color. We use top of the line brands like Naked, Bare Minerals, Too Faced, Tarte and more! NOTE: Client must bring their own foundation/concealer and optional fake lashes/glue.

+$99 Additional Location Add another location to your Pinup Backdrop Set - see ideas below like the retro gas station, train yards and more! This will be included in one of your two looks if you're adding this onto your $395 Pinup Studio Package above.

$49 per additional look/outfit change beyond first 2 & 10+ extra photos This gives you additional photoshoot time as well. Giving you more options, looks and final images to chose from!

$25 per outfit rental...This includes the main outfit, bras, waist-cincher and jewelry (this does NOT include thigh-highs, heels or underwear - we have most sizes but recommend a consultation before counting on rental options to ensure your size/preference is in stock)

$50 Rush Your photo delivery...need your pictures back before 2-3 weeks? No problem, in some cases we can even provide next day delivery. Please note that Rush is for initial photos returned, Editing Rushes are also available at $50.

+$75 Additional Airbrushed Pinup Edits (more details below...)
+$150/each add on - TRADITIONAL BOUDOIR or PINUP ADD ON to your glamour shoot!
Can't chose between glamour, pinup or traditional boudoir? You don't have to! Now we offer both in the same location. Do one of your two looks in the traditional boudoir room for a modern sexy look - with 4 floor to ceiling windows, natural light and our white simple bed/backdrop set (add only available with in-Studio traditional boudoir shoots, and when adding this on you only get 1 Airbrushed Pinup Edit instead of 2… ) OR select the white pinup backdrop for your add on. (Or choose all 3 looks for and additional $300)
GLAMOUR & BURLESQUE AIRBRUSHING + EDITING PACKAGES (OPTIONAL) - $75/each

While the first 2 edits are included in your package, you might want more of these fabulous airbrushed edits! Our edits include color changing background to your choice (if on white backdrop), airbrushing skin & blemishes, enhancing details like makeup, curves, etc., teeth whitening, cropping and color adjustments, highlighting skin and outfits to give it that painterly pinup look, Photoshop liquifying/airbrushing to any areas of the body per request. (*Note that all of our digital images are proofs right out of the camera that we send and airbrushing and all editing is additional unless otherwise listed in your package. Because of the specific nature of the pinup look - we highly recommend this add-on service to achieve that amazing pinup feel when booking a pinup style photoshoot!
1-5 edits $75/each

6-10 edits $70/each

11 + edits $65/each
HOW TO PREPARE FOR YOUR HOLLYWOOD GLAMOUR BOUDOIR PHOTOSHOOT
WHAT IS HOLLYWOOD GLAMOUR PHOTOGRAPHY?
Our glamour hollywood photography is a unique style that results in an old-Hollywood glamour feeling shot with a touch of burlesque. We create this by using a black-paper backdrop, darker room, spotlight from above, and sometimes add a hair light from behind. The results give a dramatic lighting effect that was used in older Hollywood film star photoshoots. We use vintage props, furniture, sets and posing to give the final touch. The reproduction of this technique gives clients the feeling that they too are Hollywood stars! These boudoir photoshoots are similar to the 1990's glamour shots but with a more vintage twist
WHAT TO WEAR TO MY HOLLYWOOD GLAMOUR SHOT SESSION?
Some ideas are beaded or sequenced gowns, long satin or sheer robes, long flowing skirts or gowns, lingerie paired with robes, garter belts and thigh-highs, corsets, fitted dresses, velvet, dark, red or sparkling clothing. Anything that feels like "red carpet", vintage, timeless and extravagant all go along with this classic Hollywood look. Furs and feather trimmed accessories, fans, vintage veils, fishnets, burlesque costumes, diamond sparkly jewelry and show-girl like head pieces are also perfect! We do recommend wearing one of your two looks with an outfit you can feel comfortable posting publicly on social media as most women say they wished they could share these online and perhaps your second look something more revealing. We offer props like old microphones, telephones, cigarette holders and fantastic furry and velvet chairs to finish the look and invite you to bring anything that you have also!
HOW LONG IS MY HOLLYWOOD GLAMOUR SHOT SESSION?
Every glamour photo session length varies between 2-6 hours. If you're getting your hair and makeup done with the session, you can expect a longer time frame like 5-6 hours. If you're coming with hair/makeup done - the glamour session is more like 2 hours. If you're adding on additional looks beyond the first 2 included or adding on another style like Pinup photos or Traditional Boudoir - that adds time to the photo session. Although it says about 45 minutes of photoshoot time, we don't like to rush our clients and we want you take all the time you need to change costumes, and discuss sets along with coach you on posing and show you some fantastic photos along the way - so we always say plan on 2-6 hours. The sessions are fun and you'll be feeling super sexy and empowered when you leave - so we encourage you to make some fun plans afterwards!
HOW TO KEEP THE SESSION A SECRET FROM MY MAN
Many people want to keep the Hollywood Glamour photo session a secret so we've come up with some clever ideas for you to explain where you'll be and why you're all dolled up!
"I got a free makeup/ hair look at an Ulta Event/ (or the) Mall"

"My friend wanted to experiment with makeup/hair techniques she just learned"

"I tried this new thing I saw on Youtube with my makeup/hair"

"I had a lunch date with my friends and went shopping"

"I wanted to get dolled up for a date night with you"

"I am working on a suprise for you - don't ask questions ;) xox"

"I'll tell you when I give you a surprise I'm working on for you soon"
HOW TO PREPARE FOR YOUR HOLLYWOOD GLAMOUR BOUDOIR PHOTO SESSION
Some helpful tips for preparing for your photoshoot -
For waxing - we recommend getting it done at least 4 days prior - as it can leave you a bit red and swollen

Be sure to shave legs, toes, underarms and bikini line (if that's the look you desire). Bikini line shaving - to avoid red bumps try shaving with warm water, a newer razor and with Neosporin or coconut oil instead of soap (not to worry though - we offer photoshop services)

Come with clean/DRY strait hair (if getting hair done)

Come with a clean/ moisturized face and moisturized lips if having makeup done (Any facials should be done at least 2 days prior)

Stretch before hand and after shoot! To capture your sexiest angles, we do ask you to arch your back, point your toes and pop your booty a lot! People always say they had no idea how challenging it can be to model - so be sure to stretch the day off and afterwards (If you have any injuries, back problems or other limitations, just let us know and we'll be mindful.)

Plan a fun outing for afterward - you're sure to be looking fabulous!

Do not try out a new spray tan salon or crazy new hair style prior to shoot. We've had scary cases of spray-tan-gone wrong when clients tried new places or products.
GIFT IDEAS WITH YOUR HOLLYWOOD GLAMOUR PHOTOS
If you're Hollywood glamour boudoir shoot is intended for a gift for someone - here's a list of fantastic ideas:
12 month Calendar with your favorite 12 shots (see samples at our studio)

Framed or Canvas Prints

Collage of small mounted print-outs for inside his closet door (this way it's kept private - see sample at our studio)

Boudoir Photo Album (see samples at our studio - read more on albums here)

Text him a photo a day for the most mind-blowing selfies he's ever received - for the anniversary or birthday month.





CLEVELAND & AKRON OHIO - BURLESQUE, GLAMOUR, GLITZ, FASHION, EDITORIAL, MODELING PHOTOGRAPHY AND MORE! Proudly serving Cleveland Hollywood Glamour & Burlesque Boudoir Photography, Akron Hollywood Glamour & Burlesque Boudoir Photography, Richfield Hollywood Glamour & Burlesque Boudoir Photography, Bath Hollywood Glamour & Burlesque Boudoir Photography, Peninsula Hollywood Glamour & Burlesque Boudoir Photography, Brecksville Hollywood Glamour & Burlesque Boudoir Photography, Hudson Hollywood Glamour & Burlesque boudoir Photography, Ohio City Hollywood Glamour & Burlesque boudoir Photography, Tremont Hollywood Glamour & Burlesque boudoir Photography, Ohio Hollywood Glamour & Burlesque boudoir Photography, Fairlawn Hollywood Glamour & Burlesque boudoir Photography, Median Hollywood Glamour & Burlesque boudoir Photography, Strongsville Hollywood Glamour & Burlesque boudoir Photography, North Royalton Hollywood Glamour & Burlesque boudoir Photography, Hinckley Hollywood Glamour & Burlesque boudoir Photography, Beachwood Hollywood Glamour & Burlesque Photography, Gates Mills Hollywood Glamour & Burlesque Photography